The Best Way To Build An SMS Blast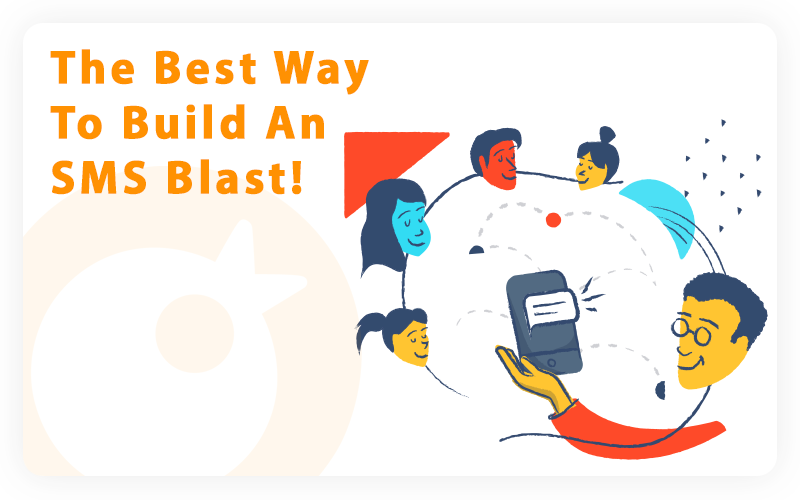 TLDR: SMS marketing is one of the cheapest ways to remarket to past clients with a high return on investment. To get the most out of your text blasts, you can employ special discounts and offers, set up an automated workflow on a specific schedule and include a strong call to action to drive people to seek your services immediately after receiving the text.
Taking an active approach to marketing your business is an important part of any company's strategies. One of the best ways to market is with SMS (or short message service) campaigns targeting previous clients. SMS campaigns, or text blasts, work so well for a few different reasons:
They are inexpensive to run.

They target people who are already clients so the chance of getting a lead is high.

Virtually every person has and uses a mobile device so the amount of exposure your blast gets is routinely high.
With a small investment and a bit of planning, a text blast can pad your slow months with jobs while maintaining communication with your customers, which also builds your retention rate.
Here are a few surefire ways to ensure that your campaign is successful and you get the best return on your investment!
How To Build A Successful SMS Blast
First things first: you need an SMS list. This list will be compiled of all the customers who have opted into receiving texts from your company. A good way to build this list is by integrating a lead form into your website or on social media. CHIIRP offers a lead form-building tool that helps collect contacts and keep them all in one place. 
Protip: Be sure to explicitly say on the form that by submitting their information, the customer is agreeing to frequent message services. This can show transparency and save you from any future legal situations!
Once you have a sizable contact list (a few thousand at least) you can begin preparing your campaign!
Target Based On Audience Segments
Before you actually write out the text it is important to look at who you are marketing to. By examining demographic information like:
Age

Location

Gender

Income bracket

Language spoken
Grouping your audience together based on this information can be helpful in crafting a specific pitch for each segment. After you have your audience sorted out you can focus on setting up the blast.
Preparing The Workflow
The next step for setting up your SMS campaign is making sure that your workflow is ironed out correctly and that you have a reliable way to respond to clients. While sending thousands of texts all at once might sound good on paper, it can create some problems for you at the outset. For example, if 100 people respond all at once, you could quickly get overwhelmed with scheduling. Instead, pick a time frame that you can reasonably be available during and send the texts out in 50-100 batches every hour.
If someone replies, how are you getting them scheduled? Doing this manually can be chaotic. Utilizing an automated workflow, like one that can be built in CHIIRP, to create opportunities within a pipeline when someone responds with positive intent lets you easily track how your campaign is doing. 

However, if someone opts out of future contact, you should have a way to note that either within their contact information or in your CRM platform.
Building The Offer
With your workflow ready to facilitate the campaign, you can begin to design your pitch. When crafting the text itself there are a few things to consider:
What service are you trying to push with your blast? Choosing a service to match what your audience segments are interested in will make the campaign more successful.

What kind of offer or deal can you bundle with the service? Text campaigns are always more successful when you offer a discount or special with them. Since the cost of an SMS campaign is so low, the ROI is still high even if you do offer a discount.

What is your call to action? Including direct instruction or "ask" will prompt people to act when they receive the text. 
Here is an example text for a Carpet Cleaning service using the above considerations:
"Hi, John! This is Schieler with Carpet Cleaning Pros! With the holidays right around the corner, it is the perfect time to get your home ready for your relatives! We want to help by offering $30 off your next carpet cleaning. Can we get you on our schedule today?"
It is short, to the point, empathizes with a need, and has a clear call to action. Of course, you must also include an opt-out option in the text. Something simple like:
"Reply STOP to unsubscribe". 
With a strongly worded text, you can garner interest in your services, bringing in valuable leads with a small initial investment!
Key Takeaways:
Developing an extensive list of contacts that can be separated into audience segments provides a good starting point for the campaign. From there, get a clear roadmap for how you are going to track leads and manage anyone opting out so you don't fall behind customers scheduling jobs. Finally, utilize the audience segments to craft a valuable offer with a strong call to action to engage people quickly!