What Is Customer Follow Up Software For Businesses
TLDR: Using follow-up software like CHIIRP for your company can create a individualized customer journey that helps you book more jobs, and earn more revenue, while leaving more time to focus on the services you provide
Are you missing out on lost revenue? Unable to respond to customer inquiries fast enough while on the job? Sick of not knowing where your customers are in your sales cycle? We understand!
No one sets out with a business plan or goal in mind to ignore inquiries, but the busier you get, the more frequently you will start to lose potential customers if you don't have a follow-up system!
This guide goes over the ins and outs of creating a customer follow-up system and even discusses why CHIIRP is an excellent option for your business's needs!
Decide on A CRM (Client Relationship Management Tool/Software) When Creating a Customer Follow Up System
When creating a customer follow-up system, you first need to decide on the software you want to use!
This software is what will allow you to track a customer through their journey from when they find and contact you until after you render their services and will even allow you to nurture leads in the future to help increase your LCV.
What's also important to note is that a great CRM will allow you to create multiple campaigns and pipelines for different parts of your client or customer funnel!
For example, you may want to create a 2-week drip campaign for client follow-up if your customer does not book your services right away but would not send a client who booked immediately through the same pipeline.
These campaigns separated allows you to tailor your marketing messages to where a prospect or client may currently be in their journey!
While there are many client relationship management systems, we recommend CHIIRP! For more information on how we can help you learn how to create a customer follow-up system, click the link below!
Here are some more things to think about when deciding on a CRM for follow-up implementation!
A robust tagging system, so you can easily identify where your clients are at in their journey with your company
Access to SMS and email follow-up automation and integrations
A visual pipeline that allows you to understand where your companies bottlenecks are for follow-ups
The ability to automatically start/stop campaigns as a customer moves through your journey
Ability to trigger different follow-up sequences for different types of customers
Integration options, so that you can connect to other apps that you use outside of your CRM

Creating Campaigns and Journeys In Your Follow Up Software or System
Now that you've found a great CRM to help automate you create customer follow-up journeys, it's time to get started!
The first thing we need to do is create an understanding of the channels your customers may contact you through, and create a list of those channels. It may look something like:
Website
Facebook / Social Media
Email
Text Message
The reason that we want to understand all points of contact is that we can then create a journey depending on how your customer decided to make a connection with your service or company.
Next, we will need to create a rough outline that emphasizes a multi-channel approach to following up with your potential client, as well as for deciding on the duration of contact.
For example, if a customer messages you through your website and leaves an email address and cell phone number, you may want to send an automated SMS message to them immediately, but then also schedule a follow-up text 2-3 days later if there is no reply.
In addition to the above, you may also want to add your new prospect to an email drip campaign, that sends or "drips" discounts every few weeks or during holiday specials. This is called a multi-channel follow-up approach!
Below, we have used a software called "Lucid Chart" to create a general outline for a campaign that we may build in our follow-up software!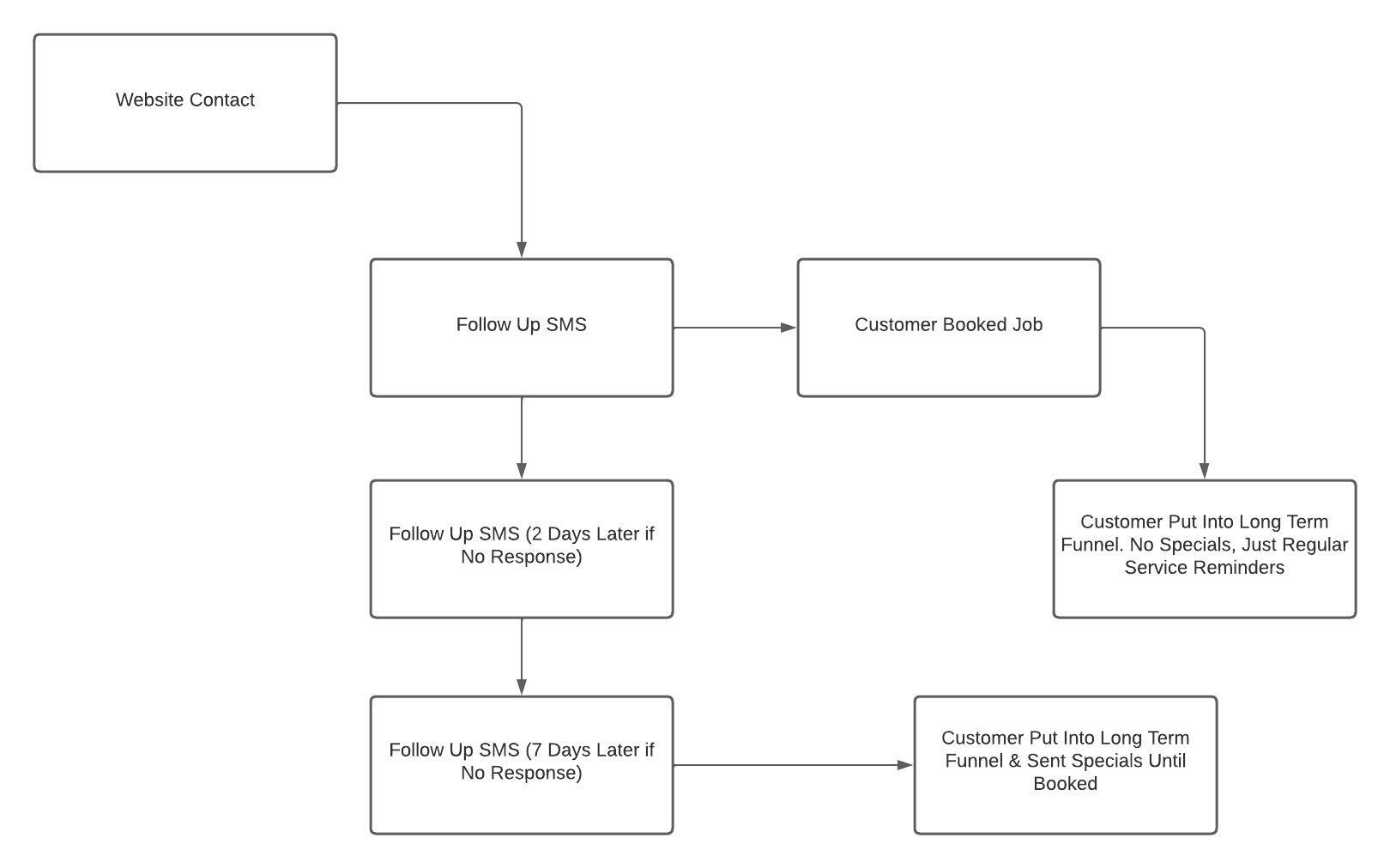 Great Things to Think About When Drafting or Creating a Journey in Your Follow-Up Software or CRM
Personalize Your Outreach – If your follow-up software or systems allows you to, make sure to always use your customer's name when automating your follow-ups. This helps potentials understand that your service is a solution to their personalized need!
Focus On Your Prospects – Your follow-up should discuss the benefits of working with your service or company, as well as your values and how they affect your client. Remember that this is your opportunity to show a prospect what is in it for them. Do not talk about yourself or your company!
Create a Call To Action, and Define The Next Step – After letting your potential customer know how you can solve their problem and the solutions you provide, make sure there is the next step or call to action available. It's important that your prospect knows exactly what to do next!
Keep It Simple – The goal of your outreach isn't to write lengthy responses or novels. It's to let your prospect know you are here to help, and that you have what they need. Keep it short, sweet, and simple!
Always Follow Up With a Question – When creating automated responses, make sure to always follow up with a question until the service is booked. For example: "Hi Kevin, we saw that you were interested in getting a price online for carpet cleaning services, is that correct?" By ending your statements or contact opportunities with questions, people become 42% more likely to respond!
Do Not Over Extend Your Welcome – Knowing when to move your client out of a short-term journey to a long-term funnel is incredibly important, or you will lose them. Even worse, they may tell other people that you are pushy, aggressive, and to not do business with your company.
By following the above guidelines, you will create an excellent customer journey and land more clients through your follow-up automation!
Final Thoughts About Follow Up Software
Creating a customer journey and following up with potential clients is incredibly important. Just because a client doesn't book your service immediately doesn't mean they're not interested – it could just mean they were too busy, forgot, or became distracted by life events.
By tailoring a journey to their needs you can earn back jobs and revenue that may have been lost if there was no CRM in place to assist you. This way you can rest-assured knowing that you are doing everything you can to take care of your potential clients, nurture their needs, and help your company grow!